Recently, Shanghai Soft Science Education Information Consulting Co., Ltd. (hereinafter referred to as soft science) announced the best discipline ranking of soft science in China in 2019. The comprehensive strength of statistics discipline of our university ranks the top 8%, ranking the 10th in national universities, ranking the 2nd in national financial and economic colleges, which is significantly higher than the ranking in 2018. It is the only discipline among all kinds of Universities Affiliated to Anhui province that has entered the top 10% in China.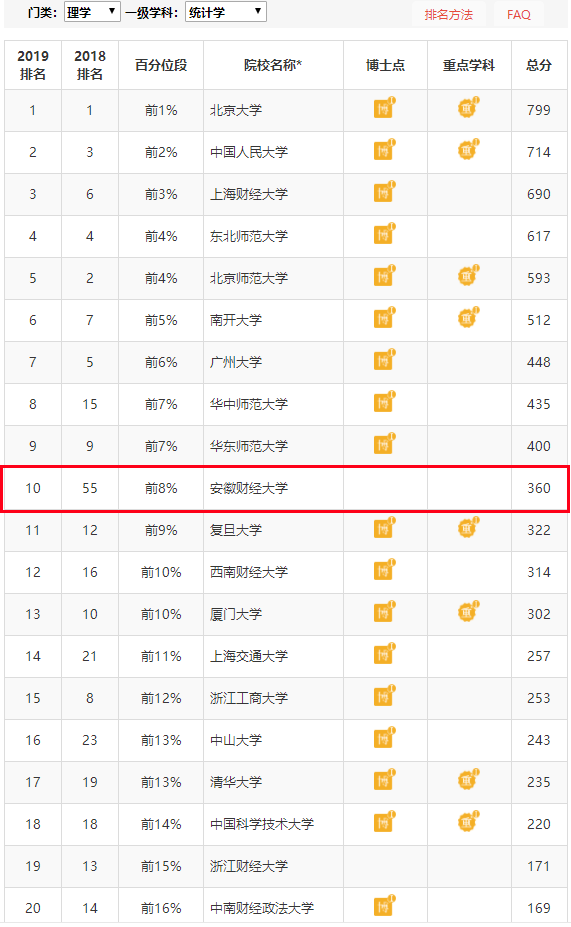 Photo source: ranking of the best disciplines in China (Statistics)
http://www.zuihaodaxue.com/BCSR/tongjixue2019.html
The Academic Ranking of the World University of soft science, the world university ranking of times higher education, the QS World University Ranking and the world university ranking of USNEWS are recognized as the four authoritative universities in the world. The best Chinese subjects ranking is to analyze the level and development trend of various disciplines in Colleges and universities. In 2015, soft science developed a dynamic monitoring system for the development level of disciplines in Colleges and universities, which comprehensively evaluated more than 30 items in terms of high-end talents, scientific research projects, achievement awards, academic papers, talent cultivation, etc., with various indicators and meanings It can clearly and intuitively reflect the comprehensive strength of each discipline.
Statistics major of Anhui University of Finance and economics is a traditional advantage major and a key discipline of Anhui Province. Statistics began to recruit undergraduate students in 1962, and was approved to recruit master's degree students in 1986. It is one of the first batch of master's degree programs established by Anhui University of Finance and economics, and the second batch of master's degree programs of statistics in China.
For a long time, the school of statistics and applied mathematics has attached great importance to the construction of disciplines and specialties. It adheres to the school running concept of four in one education system of knowledge exploration, ability improvement, quality training and personality cultivation. The quality of talent training of the school has been comprehensively improved. It has made great achievements and social reputation in teaching and scientific research, talent training, social services, cultural heritage, etc. The number and quality of students winning awards in various competitions at all levels have been greatly improved, the subject characteristics have been further highlighted, the national and provincial scientific research achievements awards and high-level research papers have been greatly increased, the overall level of the teaching staff has been continuously improved, the development environment has been continuously optimized, a large number of applied talents and a number of well-known experts and scholars at home and abroad have been trained for the society, and in economic management Science departments and teaching and research fields play an important role.